If you are tall, choosing a standing desk can be difficult. You need standing desks or converters that can rise to 48 – 55″ or probably even more. In this article, we will look at some of the best standing desks for tall people.
Standing desks are now in demand due to all the health benefits they bring. Gone are the days of having a fixed desk and working on an uncomfortable office chair all day. It can cause many back pain issues, but an inactive lifestyle can cause other health complications like diabetes and hypertension.
An adjustable standing desk allows you to work in both sitting and standing positions. You can add standing desk converters to your existing setup to allow adjustability. Having a restricted budget? You can invest in desk converters and make your workplace more active and healthy.
Buying Guide – Standing Desks for Tall People
Here is a list of things you should consider while selecting a tall standing desk for tall people.
Types of Standing Desks
Standing desks can also be called adjustable desks as you can adjust their height range and use them in both sitting and standing positions.
Manually Adjusted Standing Desk
With manually adjusted desks, you can adjust their height, but you have to do it manually.
An advantage of these desks is that they are cheap and available at a low price range.
Electric Standing Desks
These are very convenient as you can change the height with just a press of a button.
They feature one or two electric motors that raise the desk. These are smart desks and offer easy transitions within seconds.
These are also expensive desks, but they are carefully designed and more stable and secure.
Standing Desk Converters
A standing desk converter is also called a standing desk riser [1]. it's an affordable solution for people who already have a desk and need something to work as an adjustable desk.
A bummer of a standing desk converter is that it may not be as spacious as a wide desk for those who need to accommodate more than two monitor screens on the desk. Still standing desk converters are a lot more useful if you already have a fixed desk.
Height
Whether you are investing in a standing desk converter or an electric standing desk, having the right height is essential for creating a comfortable working environment.
Your computer screen should be 20-28 inches from your face. The desk should be at the elbow's height. That means your elbow on the keyboard should be at 90 degrees from the floor.
For monitor height, your head should be below the horizontal optical axis. An average desk has a height range up to 44 inches which is fine for a person with 5'11" height.
For taller people, a standing desk up to 50-60 inches is more than enough. Overall, the adjustable height is essential so everyone can set it as per their convenience.
Weightbearing Capacity
Make sure you check the weight-bearing capacity of the desk to know if it is suitable for all those heavy desktop items.
Even when you use a laptop or a thin bezel design or monitor, choosing a standing desk with a high weight-bearing capacity is recommended.
A standing desk converter is affordable but does not has too much weight-bearing capacity as a sturdy electric desk. Make sure all components are sturdy and solid.
Dual or Single Motor Standing Desk
Both dual and single motor designs are available in the market. Single motor desks are less heavy. They are lightweight and more affordable than dual motor desks.
Dual motor desks have two motors attached on both sides of the legs. They are more efficient and have a high weightbearing capacity. They also offer better stability and suitable if you have a bulkier setup.
Noiseless transition
Some low-quality standing desks use noisy motors. If you are particular about the peace of your workplace, make sure you choose a standing desk with quiet motors.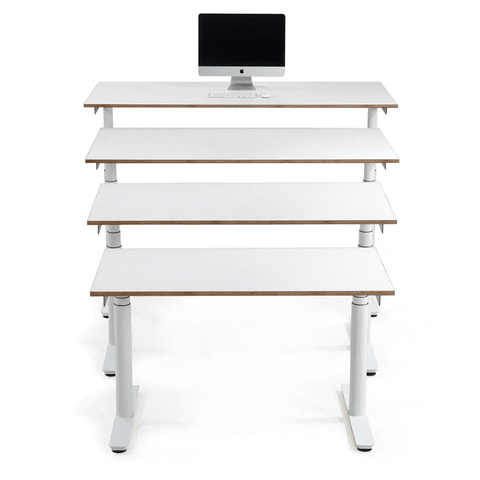 Keypad
The keypad is the section of the electric desk from where you control the menu or height adjustment. It can be a simple keypad with basic buttons up and down buttons to raise the desk.
Modern and smart designs feature a better keypad system that includes preset memory buttons to save up to two to three standing height positions for convenience.
Keyboard tray
Not all standing desks come with a keyboard tray, but you get one with a standing desk converter. With electric standing desks, you can adjust the desk's height to be in a comfortable typing position for working on the keyboard.
So you don't need to have a separate keyboard tray.
But if it is a personal requirement, you can certainly look for a desk with a two-tier design and a separate keyboard tray.
Monitor Arm
Like a keyboard tray, an adjustable monitor arm is not an absolute necessity, but if it has a separate monitor arm, you can have a lot of vertical, horizontal, or angular adjustments.
You can adjust the monitor height to your comfortable viewing angle.
Desktop Surface Finish and Space
Desktop is available in either laminated, solid wood, or MDF board varieties. All are great if you have good quality and well-treated wood used for the base.
A laminated surface gives a smooth and scratch-resistant surface to your workplace, and it's also very soothing on touch.
Spacious Desktop
The desktop should be spacious and wide enough to accommodate all your technical gears, office supplies, or other essentials at a place.
Price Range
Standing desks are available at different price ranges. People looking for an affordable solution can consider a standing desk converter or manual standing desks (but for convenience I would highly recommend an electric one).
Even in electric standing desks, we see a lot of diversity in price range due to the quality of wood, advanced features, and type of motors.
If you already have a desk then investing in a standing desk converter is a better option.
Reviews of Best Standing Desk For Tall People
Here is our list of top desks for tall people. We have also selected some best standing desk converters for those who are looking for an affordable solution. Let's review each product in detail. we have included electric standing desks, standing desk converters, and mobile standing desks for home offices.
Costway: 2-Tier Mobile Sit-Stand Desk
It's constructed with premium steel to make it extra sturdy. Even more, it's mobile! It comes with casters, so you can move around freely in your working space. If you like you can just lock the rolling casters and keep your desk stational.
It comes in two colors, white and black, and advanced anti-collision technology to avoid bumps, scratches, and accidents.
A height of 54″ on the upper desktop and a height of 48″ should be enough to work conveniently even if you're a tall person.
VIVO: Electric Standing Desk
A problem with height adjustment is that transition is too difficult to ignore. But not with this electric desk. It features an electric motor for making the transition smooth.
The telescopic height adjustment allows you to change position from sit to stand within seconds. There is a preset memory button as well that remembers your ideal height adjustment.
It features a smooth and spacious workstation. The surface is wide enough to accommodate all your essentials along with your PC. You can set up more than one monitor, laptop, speakers, or other gaming gears on your laptop as well. It's a single-piece tabletop that is free of any seam.
Vivo Electric desk comes with a sturdy and stable steel frame. The desk is not shaky and stands secure and stable. It is perfectly safe for your expensive gears.
The best part of having a Vivo desk is its warranty. It comes with three years of warranty that reassure its high quality.
FEZIBO Height Adjustable Electric Standing Desk
Fezibo's standing desk has a very solid solution. It is designed to last longer and has a secure and solid base for all your essentials. The lifting mechanism is very smooth and hassle-free. The desk has advanced anti-collision sensors that work with industry-leading sensitivity.
It prevents scratches or bumps on the desk due to collisions. Its sensors detect the solid object when moving up or down and automatically stop.
It's a mobile desk that means you can move it around conveniently. Four caster wheels swivel all around, which means you can glide it smoothly in any direction.
With a sturdy lift system, its transition is secure and keeps the desk stable. The lift system has a sturdy steel frame that can support up to 176 lbs. the desk has a high load-bearing capacity and a spacious and wide tabletop.
The workspace is divided into two shelves. You can place the monitor screens on shelves and have the tabletop free for your other essentials.
An interesting feature of this electronic desk is its desk hooks. It has two desk hooks for hanging your headset, handbag, keys, or other essentials on these hooks.
The computer desk has a cable management tray that keeps your workplace neat. The tray has plenty of space for all your power strips and cables.
ApexDesk Elite Series: Home Office Computer Desks
The standing desk features a beautifully designed tabletop with ApexDesk's Elite Series signature design.
The MDF made a tabletop. Its scratch-resistant surface is easy to maintain.
With a heavy-duty steel build frame, the desk is built like a rock. It is stable and has a high weight-bearing capacity. It can handle up to 225″ lbs conveniently. The one-piece design of the desk has two integrated motors for height adjustments.
You can program the height adjustment setting with its four preset programs. The transition from sit to standing position just requires a press of a button.
The product comes in multiple size options. For tall people, it offers up o 60″ of height. Six wooden designs provide a great variety for any interior.
Overall, it's a sturdy option designed for simplicity. You can accommodate everything from multiple monitors to printers and scanners on it. It shares great customer reviews as well.
FAMISKY : Best Office Desk with Splice Clamp for Monitor
As it's an electric standing desk, height adjustment is easy. It features dual motors for height adjustment. All you have to do is to press the button, and its dual motors will raise the desk to your required height.
The desk features an anti-collision system for better sensitivity. The motors work noiselessly.
Multiple useful features are added to the desk to enhance its functionality. It has desk hooks under the tabletop to hang headphones, bags, keys, or mobile.
A cable tray under it is for people who have a lot of gears on it. The cable management makes your workstation very organized.
Overall, it's a good quality standing desk at a reasonable price range. The desk has a thick iron frame that is durable and has a high weight-bearing capacity. It can handle up to 220 lb.
Seville Classics AIRLIFT Pro S3: Tall Standing Desk for One Monitor
It's the ultimate smart option for a tall person. A touch-sensitive control panel is installed that operates with dual motors. You can store up to 4 settings on the controller to adjust the height to your required height. You can adjust the height from 25.6-51.4 inches tall.
It has a safety lock that prevents the desk's collision and keeps it secure and stable at your preferred height.
The one-piece desktop has a thin bezel design that looks stylish and modern. The tabletop is made of solid wood. Despite its thin-bezel design, it is sturdy enough to bear a heavy load. It can handle up to 264 lbs conveniently.
Seville Classics Airlift an easy to assemble desk that comes with detailed instruction and all the necessary hardware. Legs are preassembled and folded for your convenience.
It's a quality desk that is rigorously tested and approved by authorities like ANSI/BIFMA and perfect to be used in schools, colleges, or medical institutions.
Overall it's a simple yet stylish product. Seamless transition, high weight-bearing capacity, and wide tabletop make it one of the best standing desks in the market.
Because of its 3-tier design, it's also the tallest standing desk on our list.
Vari Electric: Best Standing Desk For Tall People
The standing desk features a one-piece tabletop with plenty of place for all items. It is laminated and resists scratches or stains.
It has three-stage legs that provide better stability. The design makes them easy to adjust. It is easy with its single-touch programmable setting. You can choose a height between 25.5-50.5 inches tall.
The base of a standing desk is made in a T-shaped design and provides better stability. A heavy-duty steel frame gives it a better weight-bearing quality. It can handle up to 200 lbs so you can accommodate more than one monitor easily.
The quality of the desk is backed by 5-years of warranty as well.
VIVO Black : Best Standing Desk Converter With Keyboard Tray
Standing desk converters are great for those who already have a work table at home or office and don't want to discard that as well.
These standing desk converters are not desks but they are to be placed on your existing desk to increase their height or use in both sit and stand positions.
This standing desk converter is a dual-tier design that allows you to adjust your keyboard easily. It has plenty of space for all your essentials and helps you be more productive. The keyboard tray is removable so that you can attach or detach it at your convenience.
As it's an adjustable height standing desk converter, you can raise it to any height up to 17″ from its base, depending on your comfort level. It features a dual pneumatic spring force to change it from a sitting to a standing position. A locking mechanism keeps it at your required height locked and secure.
The standing desk converter requires very minimum assembling when it comes. All you have to do is attach its feet and keyboard tray, and it is ready to be used.
Overall, a standing desk converter is an affordable option for those who can't afford the high price range of electronically adjustable desks. It saves space and helps you make maximum use of your existing desk. The standing desk converter comes with a three-year warranty that ensures its high-quality build and long-term durability.
TechOrbits: Best Standing Desk Converters With Keyboard Tray
It features a heavy-duty aluminum frame. The frame of this standing desk converter can handle up to 33 lbs of gear with ease.
This tall standing desk converter is designed to fit all monitors universally. It is wide enough to handle two monitors at a time as well. You can use it for multitasking as well.
It features gas springs and a handle to raise or lower the converter and keyboard tray. You can use the standing desk converter in both positions, and the transition is easy due to its aluminum frame that is lightweight but strong at the same time.
It is intelligently designed and provides a storage slot for inserting your tablets, phones, or laptops. You can place them in front in a vertical position without sliding off. A two-tier design helps you to accommodate the keyboard easily.
The standing desk converter is available in three distinct colors so you can choose one that suits other office furniture.
TechOrbits Rolling: Mobile Standing Desks
A good thing about this mobile standing desk can be used as a presentation podium as well. It can also be used in both sitting and standing positions.
As it's an adjustable standing desk, you can raise it from 31.9- 49.2 inches tall. It provides an ergonomic position at any height.
The standing desk overall can handle a good amount of weight. In total, it has a weight-bearing capacity of up to 133 lbs. individually, each shelf can hold up to 33lbs.
Talking about shelves, the standing desk comes with three shelves that you can use for your media supplies or other things.
It features high-quality plastic particle board trays and a steel frame. The solid construction is great for laptop users, but still, we don't think it's a great fit if you have a PC setup for work.
Overall, it's a space-saving tall standing desk. You can tuck it in any corner when not in use.
Stand Steady: Office Desk with Clamp-On Shelf for Monitor
It's ergonomically designed to help you stand with the right posture. The erect standing position with the right placement of monitors in front of your eyes and the optimal elbow height while typing help you improve your productivity.
It's a spacious desk designed for those who need to work on more than one monitor at a time. You can adjust up to three monitors on its wide surface. It features a special clamp-on shelve for raising the monitors to your eye level.
The shelf is also adjustable, and you can extend it outwards or inwards over your desk and store any other thing on it as well.
The two shelves also allow you to place multiple gears on the desk at a time.
As it works with an electric motor, the adjustment from a sitting to a standing position is seamless.
The desk has a minimalist yet very strong frame. Its leveling feet keep the desk stable even under heavy load. The sturdy telescopic legs are made of solid steel and handle the weights of all your equipment well.
It has 70 lbs of total weight-bearing capacity. the upper shelf can conveniently handle up to 35 lbs.
Overall, it's a sturdy option in our list with plenty of space.
FEZIBO: L-Shaped Office Electric Standing Desk
They can be tucked in a corner and perfect for small offices or rooms.
This product is an electric standing desk and features a motor for making the height adjustment smooth and hassle-free. It requires a press of a button to change the height of the desk. You can raise it up to 44″ and keep using it in both sitting and standing positions.
It is raised with two separate motors. Dual motors give it high stability and easy adjustment.
It features anti-collision sensors that prevent any damage to your goods or desk itself.
The lift system of this standing desk is made of sturdy steel. The solid steel is used for its frame and gives it a high weight-bearing capacity. It can handle up to 175 lbs easily.
The desktop is made of high-quality treated wood. A wooden stand is installed over the desk that you can use for placing your monitor or simply as a storage shelf.
Considering the need for a good cable management system for a practical work surface, it features a cable management tray. The rack has lots of space for tucking all your cables and power strips in one place.
It comes with two very practical hooks for hanging your bags or headset. Movement is easy with its caster wheels. Their 360 degrees rotation helps you move the desk in any direction easily.
Overall, it's a very secure and stable L-shaped standing desk for a tall person. Its high weight-bearing capacity, easy movability, and long-lasting durability make it one of the best options in the market.
AVIX : Electric Home Office Desk
Avix offers a simple and easy-to-use control panel for height adjustments. Its one-touch buttons allow a smooth transition for people who like to change their work positions from time to time. It gives height options between 28 to 47 inches.
Avix standing desk provides ample workspace for your all essentials as it can stand up to 154 pounds, so you can place anything you like on it.
Overall, it's easy to assemble and comes with five years of warranty as well.
MAIDeSITe: Electric Standing Computer Desk
The adjustment from sitting to standing position is done with smooth and fluid movement. It takes few seconds to change the height for a tall person. A durable motor does the job noiselessly.
The control panel is intelligently designed and has three keyboard memory options. You can save your preferred height settings to make future adjustments easy.
It features an anti-collision design and wedge-shaped anti-collision bottom feet as well.
The tabletop is made of MDF particleboard. It is available in different textured designs and colors.
With adjustable leveling glides, it stands securely on any surface. You don't have to worry about balancing it even when the ground underneath is uneven.
Flexispot Standing Desk With Drawer and USB
Convenient storage space is provided to accommodate your office supplies in one place. It keeps the tabletop clutter-free.
Height adjustments are quick and easy. As it's an electric standing desk, a motor is installed for easy transitions.
It provides four programmable memory presets that adjust the height to your required positions.
As it's a smart design, it caters to all your needs. A child lock is installed so that only you can operate the buttons.
Its anti-collision function ensures safety and prevents the desktop from being damaged or crushing other objects under it.
The convenient design includes three USB ports and charging your smartphone, tablet, or other devices. With its robust steel construction, it is made to last long.
Even if you have an uneven floor, the desk stands secure and stable. It has adjustable feet and leveling glides to stabilize your desk on any floor.
Overall, it's a high-quality standing desk with height options up to 47.6″. It has 110 lbs weight-bearing capacity and is perfect for both offices and homes.
Final Words
Choosing a standing desk for tall people is not difficult if you go through our list. We have made a comprehensive list including all types of standing desks, mobile standing desks, and some best standing desk converters for you.
What they all have in common is their height.
They can rise to more height than other ordinary desks for a tall person. Make sure you choose the best option that fits your budget.