When it comes to upgrading their gaming stations, most PC gamers often focus on finding the most ergonomic and functional gaming chair in the market. While it's true that a good gaming chair can provide much-needed comfort when playing for hours on end, having the best gaming desk is equally important.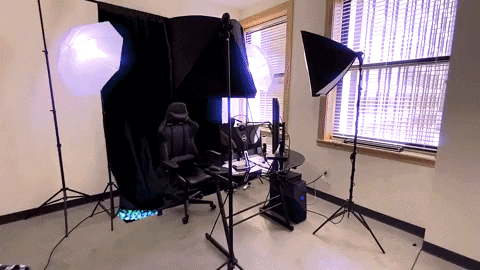 Although having a good quality computer gaming desk won't directly improve your gaming performance, it will ultimately greatly enhance your gaming experience.
Unlike standard desks or tables, desks designed primarily for gaming are not only aesthetically appealing but there are also ergonomic, spacious, durable with excellent stability, not to mention height adjustability to suit your comfort levels.
In this article, we review the top 9 best gaming desks whether you're a pro gamer or an armature.
If you're in a rush, here is a comparison table comprising all our top 9 best gaming desk recommendations.
But first:
How Do I Choose a Gaming Desk?
There are several important things you need to consider when choosing the best gaming desk. They include:
9 Best Gaming Desks for Avid Gamers
1.  Best Gaming Desk Overall – VITESSE 44 Inch Ergonomic Gaming Desk
It boasts of a highly textured surface with thousands of tiny high-intensity light-reflecting points that create a truly colorful and stylish look in sync with your gaming gear.
The tabletop surface measures 44 inches which provide ample room for your gaming PC and peripherals. If you need more space for two or more monitors, VITESSE also offers 55 inches and 63 inches desk sizes.
The desk's height does not adjust but its 23.6″ height is suitable for gamers of all sizes.
The cable management grommets help keep the many wires well-organized and out of sight. The cup holder lets you keep your drinks safely while you play while the hook provides convenient storage for your headphones.
The VITESSE desk features a sturdy steel frame that provides it with great stability to support gear up to 260 pounds while the T-shaped leg design provides even greater stability. The desktop is made with premium carbon fiber material with texture just like that of a mouse mat so you won't need to purchase another one.
Another incredible feature worth mentioning is the Smart USB rack with 4 charging ports so you can charge your phone, tablet, headphones, and other gear while playing games or working.
It's also backed by a 1-Year Warranty for your peace of mind.
A lot of users are very pleased with its quality for the price tag so you're basically getting the best value for your money.
2.  Best Quality – Arozzi Arena Gaming Desk
At 5'3" wide, the Arozzi Arena gaming desk is roomy enough to support up to three gaming PCs plus all of your gaming peripherals and other items. If you're looking to improve your gaming experience without worrying about a lack of space to make it happen, the Arozzi Arena Gaming Desk is all you need.
The entire frame is constructed with solid steel for stability and durability. You're looking at a gaming desk that is sturdy enough to accommodate a whopping 176 pounds of gaming gear, which is pretty impressive.
The top board is made of quality materials and is actually covered with an attractive full-surface custom-designed mouse pad with thick padding for ultimate comfort. The pad is removable, washable, water-resistant, durable, and won't slide on the desk thanks to its non-slip underside and extra weight (weighs 7lbs).
The height of this unit is adjustable so you can easily find the desired height for comfortable gaming while the 3 cutouts on the desk keep all the wires out of the way.
The Arozzi Gaming Desk is super comfortable, stable, durable and even comes in five different vibrant colors to suit every gamer's preferences.
 3.  Best Sturdy Gaming Desk – EUREKA ERGONOMIC Z1-S Gaming Desk 44.5″ with RGB LED Lighting
Its ergonomic Z-shape design ensures stability, support, sturdiness, and it actually looks really great. The desk also comes with beautiful RGB LED lighting which glows with color-changing lights for a fun-filled gaming/streaming experience. That, in addition to the carbon fiber textured surface with a black finish which enhances the look of your gaming station and room.
Spacious, the 44.5 inches wide gaming desk provides plenty of room for your monitors, console, keyboard, mouse, and other gaming accessories.
The desk will support gaming gear weighing up to a whopping 500 lbs thanks to its Z-shaped leg design that ensures stability and sturdiness. The frame is made of commercial-grade steel and is finished with a metallic coating for durability. This desk also comes with F1car-inspired balancing levers for additional support and stability. So basically, you're getting a desk that won't wobble or crash under the weight of your gaming equipment.
Additional stability is provided by its adjustable feet which can be easily adjusted up to 0.4 inches in height to stabilize the desk, especially on an uneven floor.
Additional features include a reversible mug holder for avoiding accidental spills, a hook for storing your headphones, a large mouse pad, games storage space, and a gaming controller stand.
The unit is also equipped with two cable grommets for a neat, wire-free gaming space.
The Eureka Ergonomic Z1-S Gaming Desk is an excellent choice if you're looking for a budget-friendly, feature-rich desk with sturdy, durable construction. It offers a luxurious gaming space and it's actually the perfect boyfriend gift!
4.  Best Standing Gaming Desk – Motionwise Electric Standing Desk, 24"x48 Home Office Series
Given that gaming involves sitting for extended periods, having a standing desk can help you ease all the pressure, fatigue, and stress. Plus these kinds of desks reduce your risk of developing various serious health conditions caused by prolonged sitting- something that a lot of gamers are at risk of.
The MotionWise Electric standing desk is one of the best sit-stand desks that boasts of a dual powerful motor that ensures fast, smooth, and noiseless rising and lowering. The height is adjustable from 28" all the way to 48" and even includes up to 4 pre-set height adjustments.
The standing desk is built with high-quality materials- particle board desk surface that is 4 times stronger than regular particleboard. The metallic frame and T leg design ensure stability and durability.
It also includes a sliding desk for storing your gaming or work supplies.
The desktop surface area offers plenty of desk space and will easily accommodate two or three monitors or any other setups you so choose.
Also included is a USB port for charging your devices plus it comes in a variety of colors to blend in perfectly with the rest of your gaming gear.
Although it carries quite a heavy price-tag, the MotionWise Standing gaming PC Desk is a true gamechanger especially when it comes to improving your console gaming and streaming experience.
5.  Best Stylish – DESINO Gaming Desk 40 inch PC Computer Desk
This 40 inches computer desk is suitable for a single monitor, though you can add more monitors since this unit supports a monitor stand. Better yet, you can select other larger sizes of this particular model- it's available in 47 inches and 55 inches as well.
The sturdy frame combined with crossbars and struts makes this desk stable enough to support gear weighing up to 250lbs.
The desktop is made of high-quality wood which is covered with premium-grade carbon fiber that provides a comfortable, textured gaming surface. It actually doubles as a full-length mouse pad so you don't need to purchase another one.
Additionally, there is a cup holder for keeping your drink safely and out of the way while streaming or playing as well as headphones hook.
Other sizes available include 47" and 55".
Overall, if style and space are what you're after, you'll definitely love the DESINO Gaming Computer Desk. It doesn't have many color options like the Arozzi but the few available are quite vibrant and will make an excellent addition to your gaming station's theme. Plus with its superb ergonomics, you'll play longer completely stress-free
6.  Best Gaming Desk with Monitor Stand – Atlantic Gaming Original Gaming – Desk Pro – Curved-Front
The unit features an elevated shelf that supports a 32 inches monitor. For a multiple-monitor gaming setup, simply use the included monitor stand to support at least 3 monitors.
The elevated shelf basically frees up desktop space for other gaming peripherals like a keyboard and mouse. Also included are two speaker stands which also double as storage plus the under-desk basket provides convenient storage space for your stuff.
There is also a charging stand for your phone or tablet, a cup holder, headphones hook, rear power strip holder, gaming controller stands, not to mention a built-in wire management system that keeps are the messy wires out of sight.
Ergonomically designed, the Atlantic desk features a curved front that provides tons of space for your monitors and laptop while ensuring close-up comfort.
It's sturdily designed, spacious, and surprisingly affordable for the quality.
7.  Best L-Shaped Gaming Desk – Mr IRONSTONE L-Shaped Desk 50.8″ Computer Corner Desk
Each side will comfortably accommodate two monitors, dual monitors, laptop monitor setups, and basically any other setup you prefer. It will still leave enough space for your keyboards, mousepads, mouse, and other computer accessories.
Also included is a monitor shelf stand that leaves even more space for your gaming accessories.
A multi-purpose desk, use it as a gaming desk, computer desk, writing desk, studying desk, and more.
Its 29.5" height is suitable for people of different sizes and although the height is not adjustable, you can adjust your gaming chair for a comfortable gaming experience.
The desk is super sturdy to accommodate several monitors and other gear plus the adjustable leveling foot pads keep the desk stable even on uneven floors.
Made of heavy-duty powder-coated steel and a high-quality P2 MDF wood board, the Mr.IRONSTONE desk is built-to-last. The sturdy construction guarantees stability even with multiple monitors set up.
The desk frame also features an X-style design that provides more support, additional stability, and durability.
Assembly is quick and hassle-free, plus it's available in 3 different colors.
This gaming computer desk is not the most aesthetically appealing like some models we've reviewed but it does serve its purpose right. If you're looking to upgrade your gaming station with more focus on space, I totally recommend this L-shaped gaming PC desk from Mr.IRONSTONE.
8.  Best Glass Desk – Walker Edison Modern Corner L Shaped Glass Computer Desk Writing Gamer Desk
Well, if you're among the latter, then you'll absolutely love this L-shaped glass gaming desk from Walker Edison.
Glass gaming desks may not seem sturdy enough to support heavy PCs and other accessories, but they are actually the opposite.
The Walker Edison L-shaped glass desk is made with tempered safety glass which is known to be extremely strong. You'll never have to worry about the glass shattering under the weight of your gaming equipment.
The sturdy steel frame guarantees stability and durability while its X-style leg design gives it even more stability.
If you want additional space, you can actually join two desks together. However, the unit will obviously use up too much space so you need to consider the available space in your home.
For your safety and the desk's durability, the edges are angled and covered with some high-quality material to avoid chipping and scraping of the glass.
Overall, this is a really spacious and sleek desk that will make an excellent upgrade for your gaming station. It doesn't come with a built-in cable management system though.
9.  Best Large Desk – Mr IRONSTONE Large Gaming Computer Desk
This particular model is 63 inches wide, which means plenty of desk space for up to 3 monitors and more left you're your keyboard, laptop, mouse, mouse mat, and other accessories.
Speaking of space, this PC gaming desk also features a cup holder, a hook for your gaming headphones, and 3 cable management holes for a neat gaming or work surface.
The heavy-duty metal frame and high-quality MDF PVC laminated tabletop ensures stability, increased support, and durability. This unit is perfectly strong and stable enough to accommodate up to 3 monitors and other accessories so you have nothing to worry about. It even includes adjustable leg pads for stability even when the desk is placed on an uneven floor.
The MR.IRONSTONE Large PC Gaming Desk is an excellent choice if you're looking for extra space for your gaming equipment, a little bit of style, stability, and durability.
It's a little bit expensive but this high-quality feature-rich gaming desk is totally worth it.
Best Gaming Desks Frequently Asked Questions (FAQs)
Also read: Best Home Office Desks Overall and our Flexispot Gaming Desk Review if you couldn't find the right fit for you in this article.
Best Gaming Desk- Bottom Line
The best gaming desk must provide adequate space for your gaming PCs and peripherals and also feature an ergonomic design[1] for your comfort.
Standing gaming desks are great for transitioning between sitting and standing especially during long PC gaming sessions.
A computer gaming desk whose height can be adjusted is a great choice too. Hopefully, you're now in a better position to choose your most preferred desk after reading our comprehensive and unbiased best gaming desks review. Good luck!