*When you buy through links on our site, we may earn an affiliate commission at no additional cost to you.
It's not uncommon to hear some people saying that a gaming desk does not make any difference and that a regular desk can make a great substitute. However, this isn't entirely true. While a standard desk may offer enough space for your gaming monitor, keyboard, mouse, and a storage drawer, a desk that is specifically designed for gaming will ultimately have ample space for all of your gaming equipment- including multiple monitors.
While you can use both desks for various purposes such as working, studying, and also gaming, gaming desks have a few key differences to standard tables.
In this article, we discuss some of the major differences between a gaming and a regular office desk.
In the end, you'll be able to decide which desk best suits your gaming needs.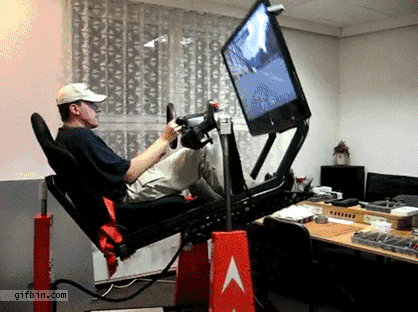 The Differences Between Gaming and Regular Office Desks Explained
1. Height Adjustability
Gaming desks are more likely to have a built-in height adjustability feature to make long gaming sessions much more comfortable. With the exception of standing desks, it's hard to find regular tables whose heights can be adjusted to match the height and comfort needs of different people.
As a gamer, you're going to be spending a lot of time on your gaming station. Having a table whose height adjusts can be a great addition to your comfort.
You'll be able to adjust the desk height so that your monitors and gaming accessories are at the most suitable height for you. This will help prevent neck strain and shoulder pain caused by sitting in a position that is not suitable for your height. [1]
A height-adjustable gaming chair is a must-have as well.
Some gamers also opt for sit-stand desks which allow them to regularly switch between sitting and standing in between gaming sessions. By doing so, gamers are able to prevent and even get relief from health issues like back pain, tailbone pain, and even promote a better posture.
Regular desks on the other hand are constructed using standard measurements and can therefore not be adjusted. While they make perfect office tables, they do not offer the much-needed ergonomics that video game players desperately need.
This is why it's important that you invest in a good-quality gaming table
2. Comfort and Ergonomics
In addition to being height-adjustable, gaming desks are also built to increase the gamer's comfort in several other ways. We are talking about edges that are smooth and rounded and sometimes curved at the front so you're able to sit closer to the center of the desk.
The purpose of the curved front edge is to allow you comfortably reach for everything, further enhancing your comfort.
A good example of a gaming desk with such a design is the popular Arozzi Arena Gaming Desk.
Most gaming desk units are also covered in a smooth microfiber desk mat that also doubles as a full-size mouse pad.
The full-size pad allows you to move the mouse around as much as you would like, so there are no restrictions whatsoever.
Additionally, these desks have ample desktop space to accommodate your whole gaming setup and still leave enough room to spread your arms.
The large surface area also allows you to organize your gaming space, giving you a comfortable and spacious gaming environment for a better gaming experience.
While regular desks may have some comfort features such as smooth round edges, they do lack more important features such as adjustable height. Plus their basic designs don't offer as much ergonomics as tables for gaming. They are best suited for an office environment.
3. Space and Storage Options
Both gamers and office workers require a lot of space to set up their work equipment and other items. However, most regular office desks have limited tabletop space compared to gamers' desks.
Usually, office tables don't need as much tabletop surface area due to plenty of storage space in the form of drawers and shelves for keeping files, paperwork, and larger office equipment such as printers, scanners, and even towers.
A gamer does not need much under desk storage as he/she does the desk surface space. A gaming desk is built with a much larger gaming surface so you can easily fit multiple screens, keyboard, mouse, and other gaming accessories.
But if you want additional under desk space, you can always go for an L-shaped gaming desk that will easily fit into a corner and won't take up much floor space.
Some gaming desk models actually have shelves and drawers, sometimes keyboard trays, as well as under tabletop PC case stands for space-saving purposes.
A gaming desk usually features a hook for your gaming headsets, a stand for controllers, built-in grommets for hassle-free wire management, and a cup holder so you don't accidentally spill your drink on your expensive equipment. Some desks also feature built-in monitor stands for maximizing the surface space.
Basically, a gaming desk offers a large amount of storage options compared to a standard office desk.
4. Construction Quality, Durability, and Load Capacity
Both desks are constructed with a wide range of materials. The type of materials plays an important role in determining the quality, sturdiness, stability, and durability of the table. The most common materials for these desk types include wood, stainless steel, PVC, particleboard, and even plastic.
However, an average regular computer desk cannot match the quality, stability, sturdiness, and durability of a gaming desk.
A regular desk will be fine with just a basic monitor and a few gaming components. However, it will most likely not support more than one PC. A gaming desk on the other hand is built with high-quality materials like steel, strong hardwoods, hard plastic, safety glass (tempered glass), and strong PVC material for superior sturdiness.
They are thus able to accommodate heavy gaming equipment without concerns of collapsing or wobbling. With good care and maintenance, they are more durable too.
Some people may tell you to avoid a glass desk for gaming. However, as long as it's made of reinforced glass, which is also known as tempered glass, you have nothing to worry about.
Most of these units have a maximum weight capacity that ranges from 200 pounds to over 400 pounds. So you can have the biggest setup and never have to worry about the desk not offering enough stability and support.
5. Aesthetics and Style
When it comes to style and aesthetics, gaming desk manufacturers take it up a notch higher to provide avid players with the best-looking gaming battle station.
Unlike a regular desk which only features a basic design, a gamer's desk is much more aesthetically appealing not just with their unique designs, but also with additional decorations like RGB lighting for a sleek appearance.
Some of these gaming desktops even come with RGB gaming mouse pads that sync with the rest of the gaming equipment.
Overall, if you're looking for a good table for gaming that doesn't compromise on style, a gaming desk is just what you need.
6. Cost
Unless you're purchasing a high-end executive office desk that can easily run into hundreds of dollars, standard office tables are generally budget-friendly.
Most go for as low as $50 up to $200, with the best options being in the $100 upwards price-range. If you're looking for a customized gaming desk, you should know that these units can be quite expensive, with some models going for $200 upwards.
However, there are still some cheap models that cost around the price of regular office tables. Just keep in mind that cheap can be expensive, especially when it comes to gaming desks. Make sure you have enough money to purchase the best quality table.
Frequently Asked Questions (FAQs)
What Makes a Desk a Gaming Desk?
What makes a desk a gaming desk is an ergonomic design that is designed to make gaming comfortable for long periods. A gaming desk gives you all the space you need for multiple monitors and other gaming peripherals, not to mention that it's height-adjustable for added comfort. Custom features such as a full-size mousepad, headphones hook, cupholder, and monitor stand also make a desk a gaming desk.
Are Gaming Desks Worth It?
A gaming desk is definitely worth it as it's built with a gamer's needs in mind. It's ergonomically designed to keep you comfortable, spacious for multiple-monitor set up, sturdy, not to mention that it's more aesthetically appealing and will blend in perfectly with the rest of your setup. Be sure to get a good quality gaming chair for a better experience.
Is a Standing Desk Good for Gaming?
Yes, a standing desk is good for gaming. Gaming for extended periods can be bad for your health. However, when you have the opportunity to alternate between sitting and standing, you'll be able to game comfortably for hours. A standing gaming desk is good for better posture, reduced risk of back pain, and other health concerns. Just make sure you're not spending most of your time gaming while standing as it's as risky as sitting for long periods.
Is an L-Shaped Desk Good for Gaming?
Yes, an l shaped desk is good for gaming. Its spacious and makes a good corner desk for a gaming room with limited space.
Difference Between Regular Desk and Gaming Desk- Wrapping It Up
These are some of the key features and differences between gaming and standard tables. If you're a gamer planning to purchase a gaming desk for video games, keep in mind that a regular desk or table won't be the most suitable option for your gaming needs.
Choose the best gaming desk that is more comfortable, sturdy, durable, not to mention better looking.