*When you buy through links on our site, we may earn an affiliate commission at no additional cost to you.
Probably the primary reason you got that adjustable standing desk in your office is to help you cut down on too much sitting.
You want to reap all the benefits that come with standing while working, including productivity and health benefits.
But this doesn't mean your standing workstation should be boring. If you make it dull, you might as well get bored standing at it for hours on end.
The SECRET is to beautify your standing desk using various accessories to make it more engaging and fun to work at.
Discover below 15 great tips and tricks for achieving a great standing desk setup that looks more stylish and eye-catching.
15 Tips to make your standing desk look better:
There are many ways to embellish your new standing desk, but we focused on the simplest, cost-effective methods that are highly effective in brightening your standing desk.
Without further ado, here's our compilation of various ways to make your standing desk look better:
1. Lighting is crucial for standing desks setups
Lighting is one of the key elements for achieving a better-looking standing desk setup.
Imagine colored bulbs hanging around your workplace. Won't this make your standing desk look beautiful and even boost your productivity?
For instance, you may consider using a salt lamp to produce a soft pale pinky-orange hue for promoting calming effect and focus. You can use this in addition to your standard lamp.
If you're not into colored lights, you can give your current lamp a paint job using your color of choice to make it look better.
Alternatively, you may consider getting a desk lamp that helps you come up with a better-looking setup but also helps you create a more productive standing workstation.
We suggest getting an LED lamp as it's eco-friendly and doesn't cause optic damage with continued use.
Also, make sure you get a dimmable light so you can adjust its brightness as per your needs.
2. Add plants and flowers (or greenery)
Just like in the case of traditional office desks, introducing plants and flowers to your standing workstation will make it look better.
One way to achieve this is by matching colors together to make your space look cleaner and fun to work at.
For instance, you can put 1-2 mini cacti on the desk and then put a matching green calendar on the wall.
If you love fresh flowers, get a lovely vase and change up which flowers you desire.
This will make your desk look good, create a calming working atmosphere, and boost your productivity.
3. Tuck away those unruly cables
One of the problems most folks face when using standing desks is a cluster of wires that just lay there as an ugly mess.
They not only make your desk look untidy but also a tripping hazard that can lead to falls and costly damages to your work equipment.
Luckily, you can get a cable management tray to help you organize and control these cables to give your desktop a cleaner and more organized look.
You can make your desk look even sleeker by choosing a tray with your color of choice.
4. Use a monitor arm to free up desktop surface
So the items on your desktop look crumbled up together and have little to no room left? If yes, using a monitor arm can help you free up more space.
This accessory simply attaches to the back of your standing desk and then holds your monitor in a raised position, freeing up the space it was occupying on your desk.
If you've multiple screens set up, this tip might prove to be a lifesaver for you!
5. Attach a drawer on your standing desk to create storage space
Standing desks usually don't come with storage space, so it is upon you to create storage for your items and keep your workstation more organized.
You can easily achieve this by attaching a drawer to your desk. You can choose a metal drawer that looks sleek and stylish while offering plenty of space for your items.
Or you can choose a drawer that matches your desk or workroom theme or even home office interior design.
There is plenty of aftermarket drawer options to choose from, so you should be able to find something for you.
6. Consider file cabinets
If you have plenty of files laying on your desk, they are sure to make your desk look cluttered and untidy.
They can also be a source of distraction that keeps you from hitting your maximum potential at work.
The solution? Create extra storage with a file cabinet; it will help you carry all the materials on your desk surface to make look better, with no clutter.
Not to forget, a file cabinet system will also hold your files in an organized manner for easy access.
7. Trays make your desk look clean and organized
If you don't have a budget for drawers or file cabinets, you can opt for simple trays to keep your desk organized.
You may want to go with a nice bamboo tray on your desk. This will not only serve as a stylish addition to your work area but will also offer you a storage function.
The trays can hold your pens, notepad, calculator, and other supplies., to give your desk a cleaner and organized appearance.
8. Decorate the surrounding walls
If you have your standing desk against the wall, this is your part! You can add artistic images and quotes to the wall.
You may also consider playing with contrasting colors to achieve a more aesthetic appeal. This is sure to transform your workspace looks!
IMPORTANT: Keep in mind that your desk goes up and down, so whatever you put on the walls should be at the right distance to ensure it doesn't stand in the way of your desk as it moves up and down.
Before you put that nail on the wall to hang your picture frame, account for your computer monitor as well
It's best to raise the desk to an appropriate height to give you an idea of where to put your artwork.
9. Add a white/cork board
This is also a great idea for a standing desk sitting against the wall. Hanging a whiteboard or corkboard can help spruce up your standing workstation.
You can then pin pictures, stick a calendar, jot down notes, or even motivational quotes on this board.
10. Pen pots can spruce up your sit-stand desk
Pen pots can also add some color to your standing desk and kick away the dullness. The good thing about these simple tabletop accessories is that you can DIY them to look even better.
You may consider painting them in a single color, putting stickers on them, painting or drawing designs on them, writing your favorite quote on them, or dip-dying them for a multi-color appearance.
11. Choose a nice screensaver for your monitor
That's right! Choosing a nice screensaver for the computer monitor resting on your standing desk can have a significant effect on the overall looks of your standing desk.
Choose a photo of your family, pet, favorite quote, favorite movie character, etc., as a screen saver instead of having a black screen every time your switch off your computer.
Believe it or not; every time you see a happy photo as you pass by your desk, you'll be motivated to sit down and work!
12. Introduce a desk pad
Though often overlooked, a desk pad is also a helpful accessory for making your desktop look better.
It helps create a cleaner-looking space while serving as a distinct space on your desk where you place various tools.
If you usually get messy on your table and it (the mess) expands to fill the entire space, a desk pad can help you create a smaller space dedicated to this mess.
A pad that features a place to hide documents works even better in keeping your desk organized.
Additional benefits of a desk pad include keeping your tabletop scratch-free and offering a grippy surface for better mouse performance.
13. Place it next to a big window
If your workroom has a big window, consider placing your adjustable standing desk close to it to tap into the natural light entering the room.
There's something about this light; it gives your home office a refreshing look.
Plus, it helps soothe your eyes if they get tired due to hours of working on the screen.
14. Paint the table top
For the artists in the house, you may also want to paint your worktop to make it look more appealing.
Here, you can invoke your creativity to help you create something that makes your height adjustable desk look cooler.
For instance, you can paint the desk surface to match your theme.
15. Consider DIY standing desk
If you're a handyman, you may also consider getting your own DIY standing desk. The best thing about a DIY standing desk is that you can customize it according to your preferences and make it look exactly how you want it to.
Here are a few DIY homemade standing desk ideas to get you started:
Standing desk converter
If you already have a regular desk and don't want to lose it, you can come up with a DIY desk extension that enables you to stand while working.
This involves building a platform whose footprint fits on top of your existing desk.
Make sure the platform has enough space for your computer screen and laptop.
You'll also need to create a built-in shelf below the main platform for housing your keyboard and monitor.
Find more details in the video below:
Height adjustable steel pipe standing desk
If you want something sleek and urban while still being height adjustable, this is it.
You can come up with a homemade standing desk design by using a galvanized steel frame and an oak tabletop.
Be sure to brace the legs with H-shape for extra stability.
Minimal, shelf-inspired homemade standing desk
If you have a small room and a limited budget for coming up with a full standing desk, go with this particular design.
Here, you can get a tabletop from IKEA and mount it to a brick wall at a comfortable standing height.
You can then spice it up with a mid-century modern credenza lying right underneath it.
Large DIY standing desk
If you've got the room, this design of a large standing desk may inspire you. But unlike the typical standing desks, this DIY standing desk from woodshopdiaries looks like a kiosk.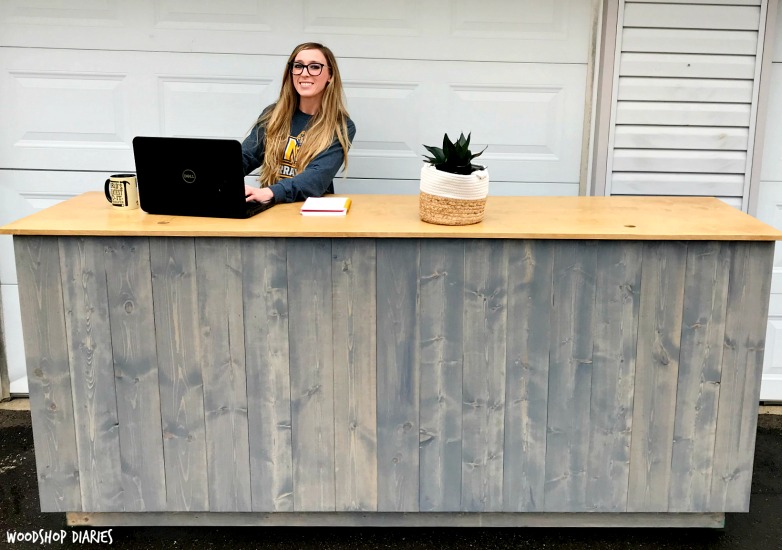 The story behind it? It was initially designed to serve as a cashier kiosk at a boutique store but it was turned into a standing desk.
The other side of this large standing desk features shelves for housing notebooks, pens, etc.
Treadmill standing desk design idea
If you want to stay active while working at home, then you may be inspired by this DIY desk idea.
It is not complicated as it may sound. It involves attaching a keyboard platform and desk to your treadmill.
Whenever you take a break from your work, you can be turning on the treadmill to burn some calories.
Bookcase standing desk
This is probably the simplest DIY standing desk as it doesn't involve any tools or assembly.
It simply involves transforming your humble bookshelf into a practical, well-designed standing desk.
You just need to remove several shelves and you're left with one shelf that serves as your worktop for use while working in a standing position. Check out our article about more standing desk alternatives.
Bottom Line – How To Make A Standing Desk Look Better
There's no limit on how you can make your standing desk look better. This guide has focused on some of the simplest and most cost-effective methods, so everyone can easily implement them.
From making your tabletop look neat and organized to adding more storage, introducing lighting, plants, greenery, etc, all these standing desk décor ideas not only make your standing workspace look good but will also have a positive impact on your productivity.
If you like, you can also come up with your own standing desk. This gives you an opportunity to fully customize its looks according to your preferences.
Which of these stylish standing desks decor ideas would you like to implement today?